Earn over $100,000 per Year!
Sign Up Below To Get More Information!
Gutter Guard Protection System by Gutter Pro USA
Dealer Information / Only $99 to Become a Dealer
We have open territories throughout the United States and Canada currently available. We have over 50+ dealers with dealerships. We train you and show you how to grow your business with an income potential of $125,000 – $264,000 per year.* When you fill out the form below you will receive a sales kit and in it is our business plan that shows how to earn $264,000. The best part is you are your own boss, set your own hours, and you own your business entirely. Many of our current dealers have their family members working in their business with plans to inherit the business. We have been in business for over 12 years and have an A rating with the Better Business Bureau.
Gutter Pro USA is looking for dealers to expand the growth of an already successful business. Many homes are suffering from clogged gutters, and we give them the perfect solution.
Gutter Pro USA stands heads above the rest in gutter protection. This innovative product allows you hassle-free, leaf shedding gutter guards.
Our unique design utilizes water adhesion in which the water follows the Gutter cover and flows directly into the gutter. There is no room for debris.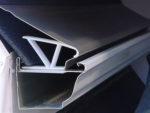 Gutter Pro USA takes pride in the gutter protection systems that we offer. There is a big problem with unprotected gutters and we are providing the solution. Unprotected gutters can lead to mismanaged water that can cause damages around your home or property. We are glad to offer a solution that helps save time and money.
Get Started Today
Complete the form below and we will send you an informational business package and make an appointment for you to speak with a representative about becoming an authorized dealer.
*Income potential based on estimate, details and business plan in New Dealer Sales Kit.